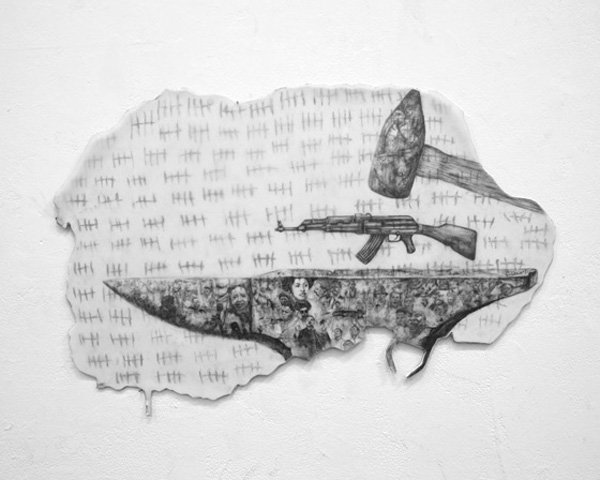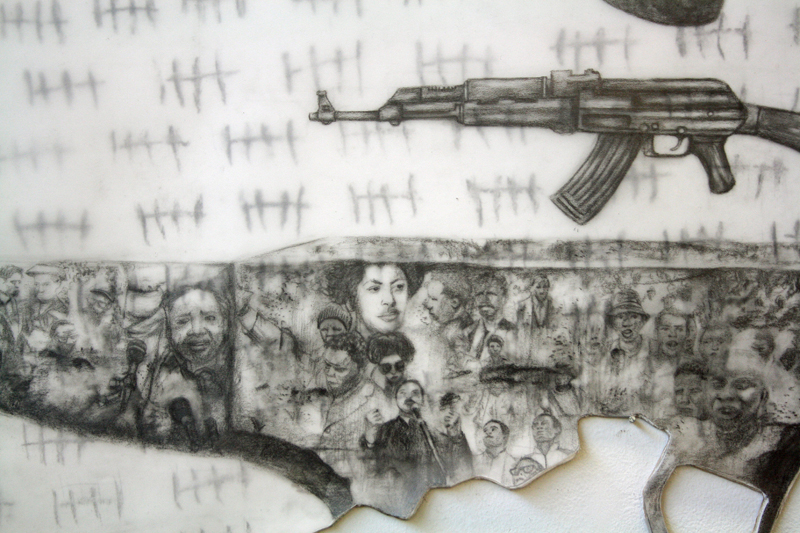 I pulled these drawings out from under my bed today when I heard about the death of Nelson Mandela. I made them 2 years ago for school in a project I called "Prison Letters". This drawing is based on a letter from Nelson Mandela. It was smuggled out of the confines of Robben Island, South Africa and took 2 years to reach the ANC (African National Congress). At this point Nelson Mandela had been in prison for 17 years as a political prisoner for resisting the apartheid and white minority rule. The letter calls on South Africans to continue their resistance and fight. It is also a response to the Soweto uprising of 1976 when policemen opened fire on children who were marching in protest.
The specific quote that I drew imagery from is,  "between the anvil of mass united action and the hammer of armed struggle we shall crush apartheid and white minority rule". This was written on June 10 1980. The drawing is on vellum, attached to a board shaped like Robben Island. The markings show the number of days the letter took to reach the ANC, and the drawings in the anvil are collaged from newspaper photographs around the events relating to the letter.
To be honest, this was an important drawing for me. The research I did on Mandela was impacting, sobering and inspiring.  But during my critique in school it was pointed out that it was not very "relevant" to the Canadian contemporary art scene. Why prison letters? Why Mandela? Ouch. So the drawings went under my bed.
Yes, we don't have an apartheid here. And yes, Nelson Mandela lived in South Africa. But everything he stood for and accomplished is relevant to Canada. The Truth and Reconciliation Commission  launched HERE in October is named after Nelson Mandela's Truth and Reconciliation in South Africa. Did you know that? And today there was a memorial held for him at the Vancouver Art Gallery, which I find very ironic considering the critique I received two years ago.
I end this day, thinking of an old verse I've heard many times over the years. "I have fought the good fight, I have finished the race, and I have remained faithful" from 2 Timothy 4:7.  Few of us could say that with full confidence, but there's no question in my mind that Nelson Mandela fought the good fight.