Well folks, this is it. September.  Summer is coming to an end, and crisp, Autumn weather has arrived in Berlin this week. I've spent the past couple weeks organising my work space and preparing for the crazy storm of stitching which is about to descend. It's a small corner in our bedroom, as that's what makes the most sense right now with having a 1 year old who isn't in Day care yet. But I'm pretty happy with how it's shaping up. I've decided to share a photo of how my desk usually looks, as opposed to how it would look if I kept it clean all the time.
A good friend built me this beautiful custom desk a few months ago. There is a light table built into the surface (hiding under that keyboard and sketches) which is already getting much use. Check out his Facebook page Leise Möbel; he does beautiful work! My husband and I worked on designing the shelves together, and still need to install one more that will go along the top. I'm also happy to report that my button supply has doubled in size thanks to some recent button donations. Thank you! If anyone else is looking to get rid of buttons, I'm your woman. You may even find your buttons on the pages of a book next year 😉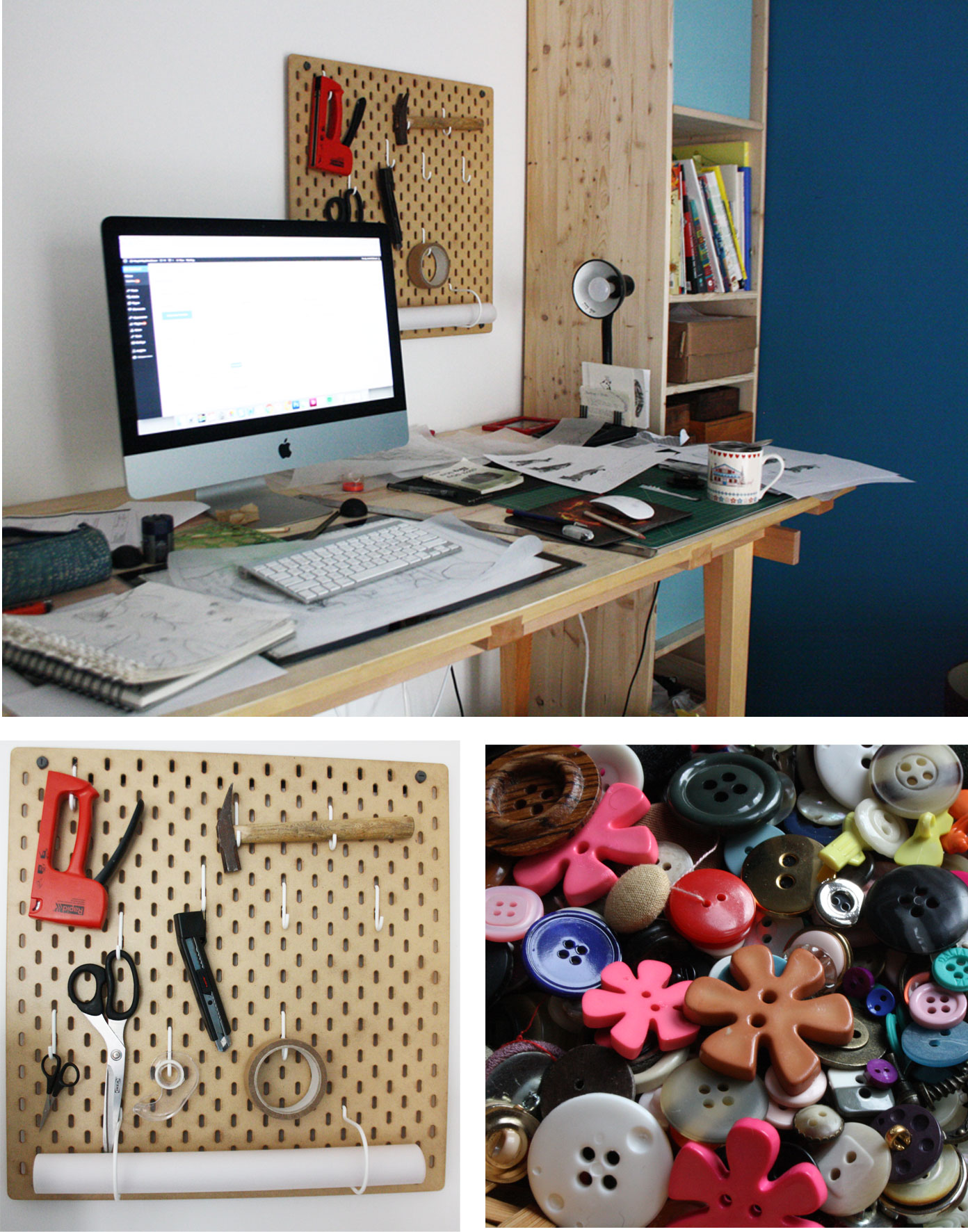 The Mr.Buttonman book is coming along, slowly but surely. Thankfully Joe (my husband) has been able to juggle his hours so that I can get some good work hours in during the week, and the little Miss is enjoying the extra time with her daddy.
As to the embroidery patterns I talked about in my last blog post. I will be releasing a few new ones for the Fall this month, and will post on here again once they are finished. A couple weeks ago my Sushi Roll Pattern was featured on the Feeling Stitchy blog. Thanks for the sharing the embroidery love Floresita!
That's all for now, have a great week!