qI have an exciting announcement to make on this week's blog: As of this week, I will be designing and selling downloadable and printable embroidery patterns through my Etsy and Dawanda shops.
This idea has been in the back of my head for a while. But last year it became a reality when I was approached by the German publisher Droemer-Knaur to create some patterns for their "Stitch-It-Yourself" book. Through this project, I realised that I really enjoy creating tutorials. I've also discovered in the last year that there are hardly any artists selling embroidery patterns in Germany and there is a steadily growing interest in it.  So, my plans is to make patterns in both English and auf Deutsch, but to especially focus on Germany and creating materials that can be distributed here 🙂 Don't worry, my German husband will be proof-reading everything I write, to make sure it is makes sense and is error-free!
That being said, my first two tutorials I am releasing this week will only be available in English, as they are my English versions of the patterns I created for the Stitch It Yourself book. You can get the German translation by buying the book online, and it's more worth your money because you will get tutorials from 14 other artists as well!
The patterns will be 100% my own designs and designed for different levels of skills. These first two patterns are intermediate, so if you've never stitched before I wouldn't suggest starting with these. One pattern is for an adorable Sushi Roll Hoop and the other a Safari Animal Canvas, that looks great in a kid's room. I will be creating a simpler beginner's tutorial in the coming weeks.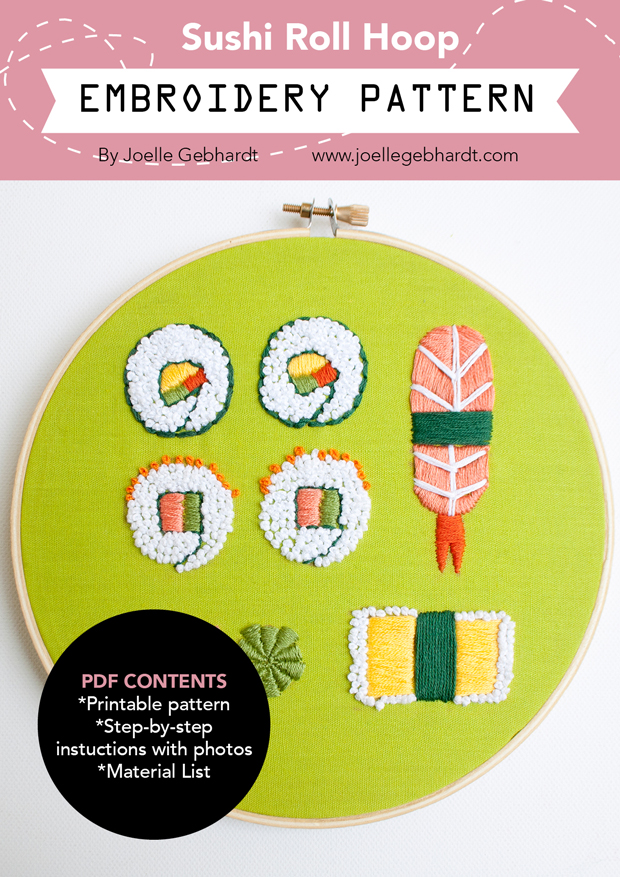 I'm excited to be starting something new, and will be continuing to work on other commissions and my children's book at the same time. The grand dream would be to grow a bigger community of stitchers in Germany and also turn this into a fun side business and possibly a publication one day. But I'm starting out slow by only releasing downloadable PDF tutorials at reasonable price and we will see how they do. As a thank-you to anyone who purchases a pattern, tests it out and provides feedback, I will gift you a 20% Coupon Code for my Etsy shop. I want them to be as clear and helpful as possible, so any feedback is GOLDEN.
Also, you may be wondering why I wrote this blog in English when a bit part of this plan succeeding will rely on my German skills. Well the fact of the matter is, my husband just doesn't have time to proof-read all my blogs right now, and writing in German takes much longer for me than my mother language. Until I'm at a point where I can write faster, the blog will remain in my  mother language.
The first patterns will be up and available by this FRIDAY, JULY 7TH, just in time for some weekend stitching fun 🙂