Sometimes I struggle to share my artistic process. Being a bit of a perfectionist, I'm tempted solely present my best and finished work. Whenever I post a work-in-progress image on Instagram or Facebook I have to refrain from descriptions like "I know the hand is disproportionate, but I'm gonna fix that!". I'd also love to delete all the posts on this blog from two years ago because my work has changed a lot since then. But the reality is, the process of making images, and growing as an artist, is beautiful and nothing to be ashamed of.
This past week I've spent a lot of time sketching at my desk. Mostly sketching bears. (Bears are super fun to draw, by the way!) I haven't finished any of the pieces yet, as I'm trying to be more efficient by working on a batch of pictures in stages, rather then bringing the pieces to completion one by one. I think this will give the series a stronger cohesiveness (if that makes sense).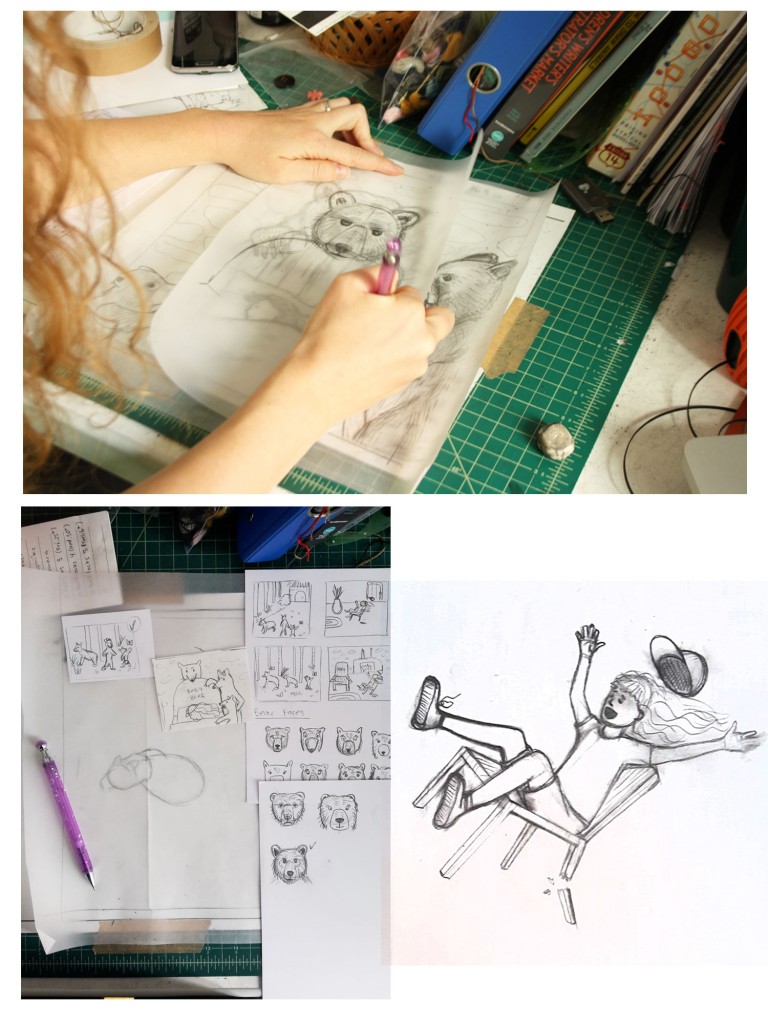 I find sketching weeks are the hardest. I spend hours drawing, erasing, and then re-drawing the plans for each illustration. Thanks to the invention of cameras and the internet, it's easier than ever before to collect reference photos. However even with the help of technology, it's difficult to get the correct perspective and proportions for animals and humans without access to real models. It takes A LOT of practice and time. Illustration is hard! (Does anyone have a bear or 8-year-old girl that I could borrow to model for an hour? That would be great.)
BUT. But. But. But. This process is still wonderful and worth sharing. And I've already experienced that the work gets easier with time.
I've been listening to "Every Age" by José González today, and it so perfectly describes the beauty of process, growth, and the struggle of art/life. I'd recommend listening to it, if you have a free second. Here are the lyrics below:
Every age has its turn
Every branch of the tree has to learn
Learn to grow, find its way,
Make the best of this short-lived stay
Take this seed, take this spade
Take this dream of a better day
Take your time, build a home
Build a place where we all can belong
Some things change, some remain
Some will pass us unnoticed by
What to focus on, to improve upon
In the face of our ancient tribes
Feels so clear, feels so obvious
To each one on their own
But we are here, together
Reaping what time and what we have sown
We don't choose where we're born
We don't choose in what pocket or form
But we can learn to know
Ourselves on this globe in the void
Take this mind, take this pen
Take this dream of a better land
Take your time, build a home
Build a place where we all… can belong