I've decided to make a habit of going to book fairs every year. The 5 days I spent in Bologna were incredibly inspiring and well-worth the time and money it took to get there. There were some disappointments, don't get me wrong. But, the overall experience was amazing.  I'll try to keep this blog concise because there's a lot I could say!
Bologna as a city was beautiful. It's a little off the tourist map, and we were fortunate to have sunny weather the whole week. We even got our first sunburns (but only on half my face, nice right?). We stayed in an airbnb place close to the Bologna Fiere and could walk there within 10 minutes. Our hosts were super friendly and helpful in recommending places to eat and to go when we weren't at the fair. We also randomly ran into two good friends from Vancouver. We happened to be standing in the same Piazza at the same time. That made my week! Here's a few photos of Bologna and us outside the Fiere.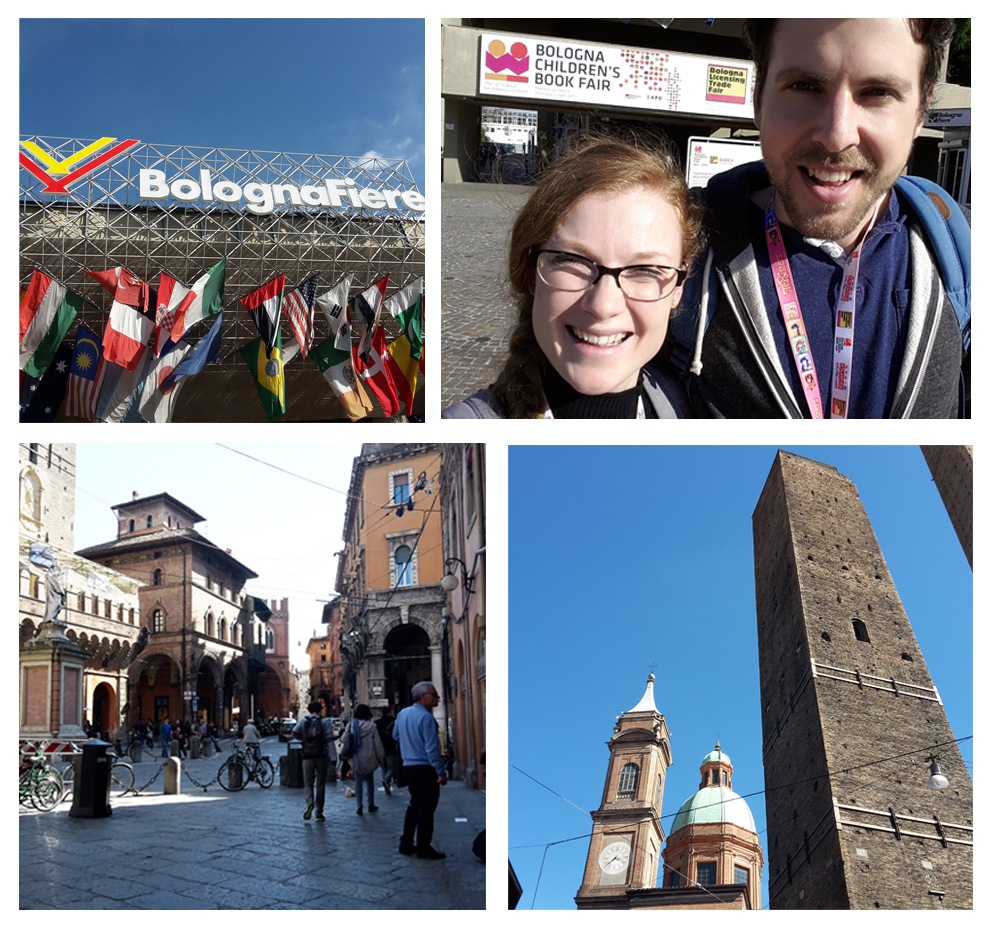 I was pretty nervous going to the fair, but as soon as I stepped through those doors I felt at home.  It hit me that: all of these publishers and illustrators are people who love children's books. When you realize that you're in the company of people who love the same thing as you, it's hard to get down. Here are a few photos from inside the fair: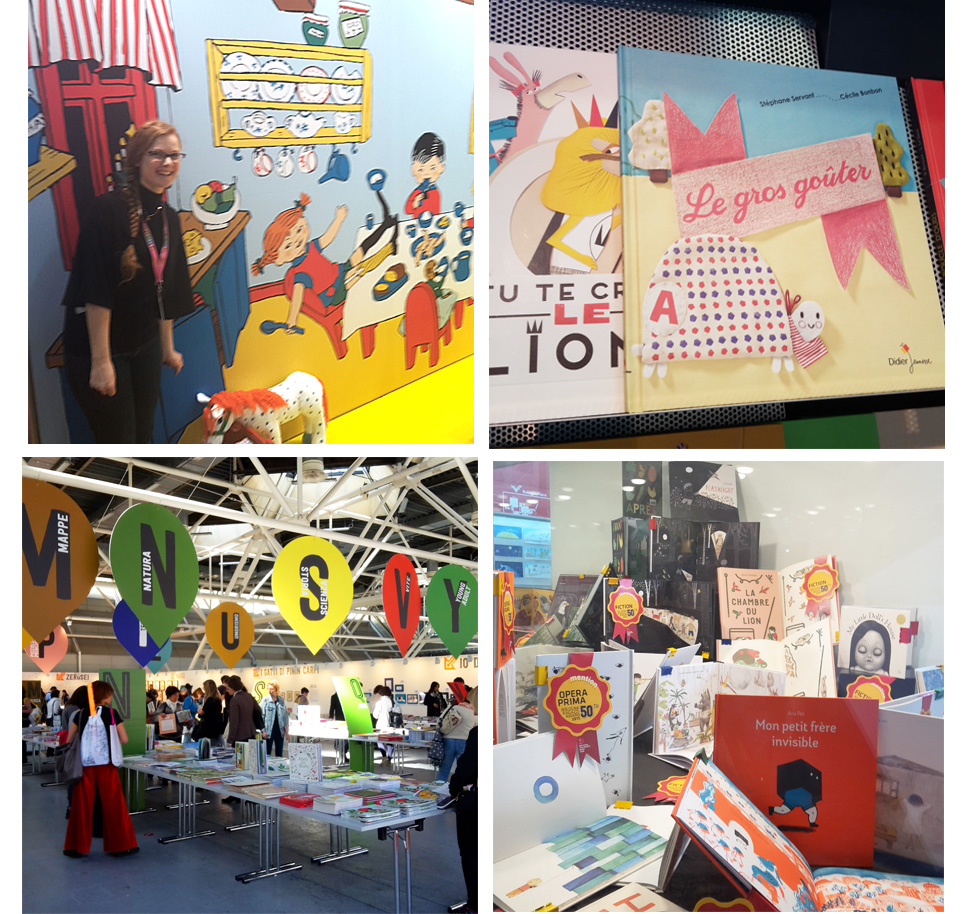 You'll notice that I got my picture with the one and only PIPPI LONGSTOCKING. That's right. Don't be jealous because I know you all love her too. Well, actually this was a booth with her books; the real Pippi couldn't make it out. The foreign agents man looked at me like I was crazy while taking this photo. That stopped me from lifting that little horse over my head.
I'd have to say that I fell in love with the foreign publishers (not surprising). I realized growing up in North America, I missed out on a lot of other books. Not to say that North American books aren't beautiful. But there are SO MANY books in the world. One of publishers who I fell in love with is Didier Jeunesse.  They have really unique books and some with embroidered illustrations. I was instantly excited when I saw their work. You can see one of their covers in the photo above.
In regards to meeting publishers, there were some disappointments there. I didn't anticipate that many (if not most) of the American publishers had no editor or art directors willing to review portfolios or talk to illustrators at the fair. Of all the research I did, this was not something I had heard. That was a disappointment for me and made me feel like I flew all this way for nothing. On the flip side, I could understand why this was the case and decided to just browse through the books, collect some business cards and move on. And I was able to cross a few publishers off my list, just from looking at their recent books. After a while I started to get a sense of where my work might fit.
Luckily, many of the European publishers had portfolio review times and a couple Canadian publishers made time to meet with me (the Canadian publishers were the nicest people I met all week, and that made me miss home. Go Canadian friendliness!) I was also able to talk with a few German publishers, in German. All those classes finally paid off!
Looking beyond the fair, the plan is to continue working on my Mr.Buttonman picture book, in the hopes of getting it published.. The fair inspired me to buff up my website more, so you can look forward to seeing new work up here in the coming months.
Thanks for reading and hope you have an inspiring weekend!