Today I'm writing this blog with some nervousness. Did I drink too much coffee? No. I'm nervous because I'm going to attempt to write a personal blog. Personal?! I usually avoid being too personal here. Why do I do that? Mostly because it's scary.
However, I will attempt to summarize 2014 and try to explain my feelings as I look 2015 in the eye. If you want the short version, check out the photo below.
Deep breath, here I go:
2014 was a challenging year. It may be the most challenging year in my life thus far. (There are not many years to compete with yet) It began with a lot of good-byes. I hate good-byes. We moved from Canada to Berlin, Germany. I became immersed in a new culture, new language, new home, and new friends. All this new stuff, took a lot out of me. The first month we were here, I slept almost 10 hours every night, mostly from the emotional exhaustion. In the midst of trying to figure out regular life in a new country, I was also struggling to find direction for my art practice.
2014 was also my first year without a day job. I chose to focus on learning German and building my portfolio, rather than making money. (Hopefully, this decision will pay out in the long run! ) This job-less state, introduced new challenges. I had to manage my own time, set my own goals and attempt more freelance work. Anyone who knows me, knows I'm horrible at decision making. Combine this with having a lot of free time on your hands and unlimited possibilities and you've got a recipe for a meltdown. Thankfully, I avoided the meltdown and made some progress. This is a miracle.
Here's a photo some highlights of 2014.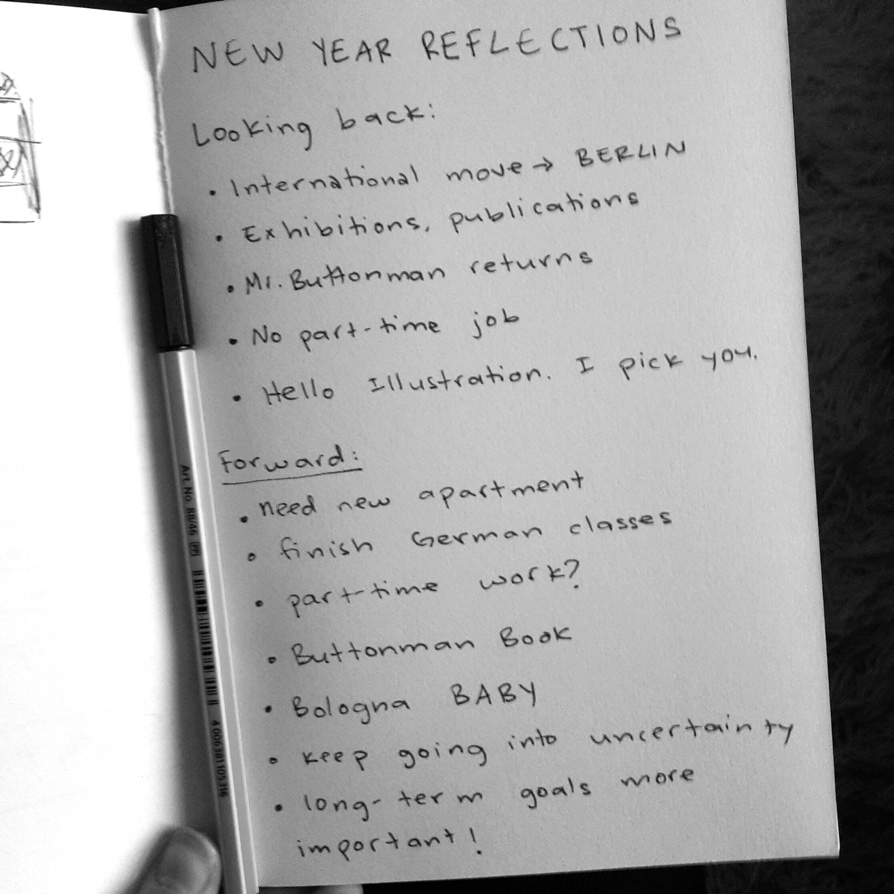 Now referring to the photo above, do you see the phrase "Hello Illustration, I pick you" in the photo? Are you curious what this means? Well, let me elaborate.
I made an important decision in 2014. In the midst of a challenging year, one thing became very clear to me. I want to be an illustrator. Didn't I always want to be an illustrator? Actually, I didn't. I always wanted to be an artist, but I had no idea what to specialize in. And there are so many avenues for art, especially now.
I majored in illustration at the suggestion of a teacher. She was a teacher who knew my work well and the way I think. Since, at the time, I was unsure of what to pick as my major, I chose to trust her and focused my studies in illustration. This was the right decision. But, through the rest of my studies and the following 2 years, I've had some nagging doubts.
These doubts were fanned into flame by some fine art teachers who told me illustration was "not real art". I always disagreed with their views, but didn't speak out. Yes, illustration is different from performance art, sculpture and multi-media installation work, but that does not make it less of an art form. This is an age-old discussion, which I won't get into. My self-doubting lasted until 2014. Thank you 2014 for ending my misery!
Around October, something changed in my thinking. It didn't come with a great opportunity or a wise word from another artist. It was a weird, out of nowhere, realization moment. Here's how it went.
Joelle was drinking coffee at the breakfast table. Suddenly a thought overcame her, "I love illustration. I want to be an illustrator. This is what I'm good at, and that's what I should be doing." 
Then I cried. A long, deep cry of relief and longing. A little dramatic, I know. But, do you ever have these moments? Where you realize that you want something so badly, and at the same time feel relief that you finally know what you want?! It's such a wonderful, amazing feeling!
Ok, now keeping this moment in mind, join me in looking at the Christmas Market in December and the present New Year 2015.
The Christmas Market, overall, was a good experience. There was not the mad Christmas rush that I had expected or hoped for, however I had many wonderful conversations and was encouraged by the friends who came out to support me. Without my newly refreshed desire to be an illustrator, I could have come away from this market thinking it was all pointless. But actually, it was very valuable research. It gave me the opportunity to see lots of people (children in particular) interact with Mr.Buttonman. Markets are always unpredictable, that's partly why I love them. You never know who you will meet, and you also never know how much you will sell. The point of doing them for me (though I do forget this sometimes!) is always the people more than the profit. I also had many chances to practice my German which is always helpful. Thanks again to everyone who came out to the Samariter Kiezweihnachtsmarkt!
There are a lot of uncertainties heading into 2015. We unexpectedly lost our apartment two weeks ago and have to find a new one. I will be finishing German classes soon and will likely need to start looking for part-time work. I also have the goal to finish my first draft of Mr.Buttonman's picture book by March and have no idea if anyone will want to publish this thing.
But, I have A PLAN. The plan. The 2015 plan of resilience and victory (insert evil laugh here).
Oh glorious, unrealistic year-planning how I love you. With my new found direction, there's no where to go but up, right? Well, actually I may be starting the most difficult part of my illustration journey. I have no excuses now. I know what I want, I just have to do it. And that, my friends, is more scary than not knowing what to do because now I have to face the possibility of FAILING at what I want to do.
But, this is another thing I realized in 2014. Long-term goals are more important than short term deadlines. As long as I keep working towards that bigger goal of being an illustrator, it's ok if I make mistakes along the way. WHOOPIE!
And there's also this tiny/big thing to look forward to: Bologna BABY.
Are you having a baby in Bologna you ask? No, I'm not pregnant.
But I'm going to the Bologna Children's Book Festival in Italy in March and am super excited/freaking out about it. Mr.Buttonman will meet the world, and I'll get a book contract and everything will be bliss. Ok, that's probably not going to happen, but DREAM BIG PEOPLE. Dream big.
After I made the decision to be an illustrator, I also decided that Mr.Buttonman needs to be discovered. Those two somehow went hand in hand. I'm not sure how long this will take, but I'm very excited to keep working with this character and to see where he goes. I've already written a few blogs about that though, so I won't bore you with those details again.
In conclusion of this personal, and hopefully not boring blog-post, 2015 is looking uncertainly awesome at this point.
Thanks for reading!