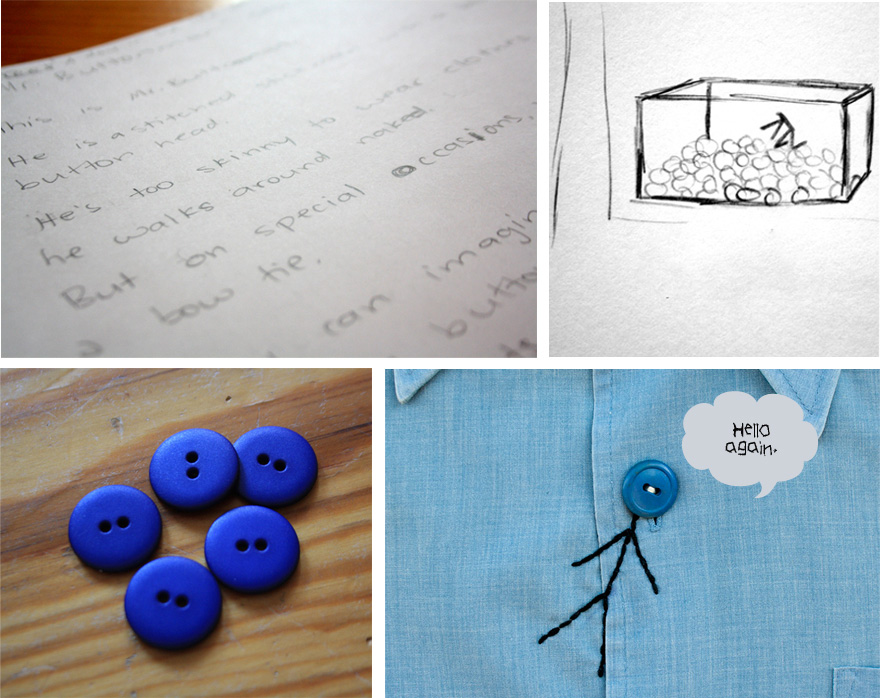 I'm sure you've already met Mr.Buttonman if you've been following my website, blog or life in general. He has been an ongoing project for me, that has slowly grown bigger and bigger. It seems that every time I think I am "finished" with the character, something happens to pull me back to him. And the reason is not because I'm obsessed or in love with buttons. I do like buttons, and this character was definitely invented in a "button phase" of my life, but I think there is another reason.
Over the past 3 years, I've displayed, sold and exhibited Mr.Buttonman in various settings. In a way, it feels as if I've been gathering research based on the different feedback or reactions I've gotten. This year I've had the opportunity to display him in Berlin, to an international audience, and that has been really affirming. Even though, I haven't yet had great "success" (as in Mr.Buttonman hasn't paid any of my bills or become famous) I still feel in my gut that there could be great potential here. Maybe I'm wrong, and will eventually have to give up. But I don't feel that I've pushed him to the limit yet. This is why: I'm writing a storybook!
There have always been little stories embedded in the Mr.Buttonman illustrations, but I've never sewn the images together into one plot. I've never actually defined: Who Mr.Buttonman is, where he lives, what he eats, who his friends are, and what happens to him on a daily basis.
I'm really excited about this next project and have gotten a lot of affirmation over the past few weeks as I've discussed my ideas with fellow artists and writers. If everything goes according to plan, I'm hoping to have my first draft of the book finished by April 2015.
In the meantime, I'm also planning  to release a series of Buttonman Christmas cards for this year in October. So stay tuned for those on my Etsy shop.
Here's to not giving up on long-term projects, and thanks to all of you who have been an encourager of Mr.Buttonman. You've helped keep him alive!