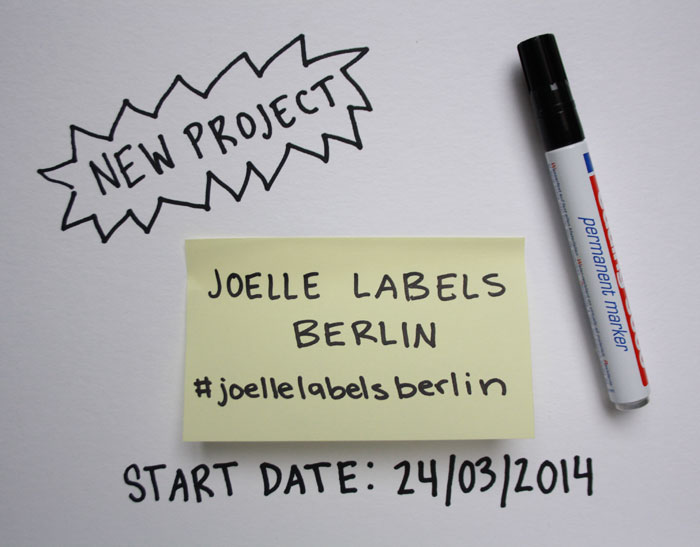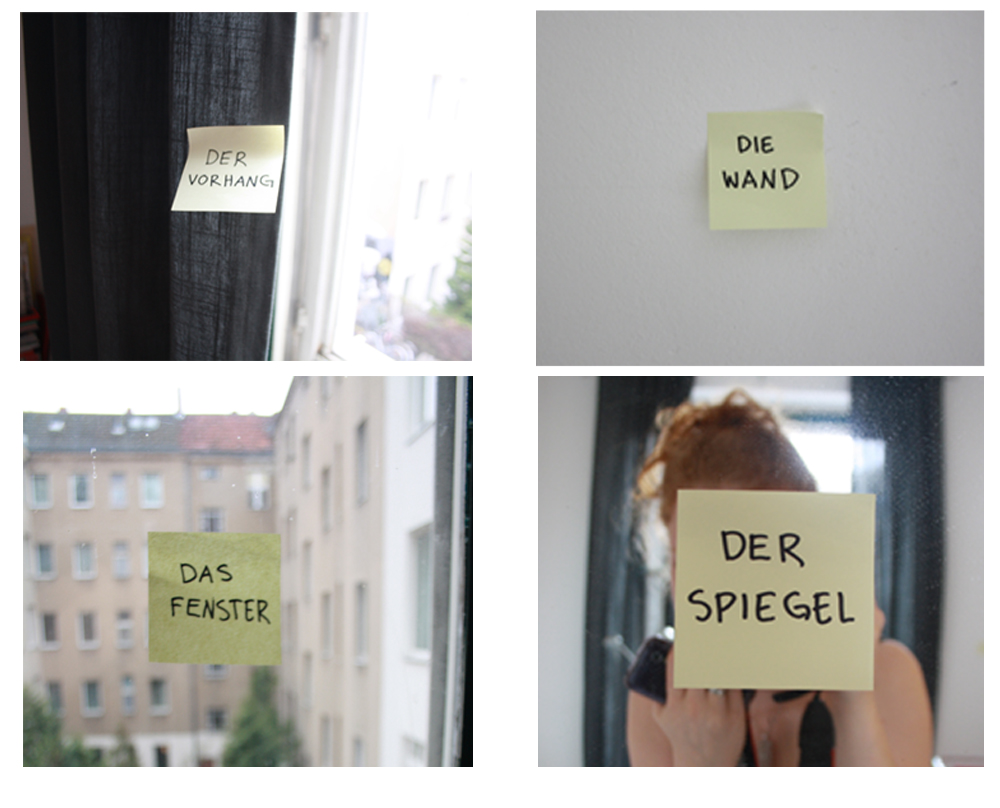 So, this project is called "Joelle Labels Berlin", as you can see from the photo. It's a new social media project, involving Instagram, Twitter and Tumblr that will (hopefully) help me and others to learn the difficult language of German.
If you have been following any of my social media tracks, you should know that my husband and I have recently moved to Berlin, Germany. My husband is originally from Germany, so the goal of this year is to learn the language and experience a his home culture. I'm hoping it will also be a year of meeting new artists, attending exhibitions and making A LOT of art.
This is my newest project, that was birthed out a conversation with a fellow English-speaking friend yesterday (thanks Shannon!). We were talking about how difficult it is to learn German. Then, she shared with me that one of her friends labelled everything in her apartment to help learn the German words with their proper articles. I thought, "What a brilliant idea!"
You see, in German every noun has an article (die, das, or der). Some words are masculine, feminine, and neutral. For example, das Fenster (window), der Spiegel (the mirror) and der Wand (the wall) There is no reasoning behind this system, from what I can tell so far. The only way to learn these articles is to memorize them. So, what better way to memorize then to label everything with sticky notes?  But, why stop with household items? I mean, there are only so many things in your apartment. But I need to know everything. So, everything must be labelled!
WHY DO THIS, YOU ASK? Because German is really difficult, and I'm a visual learner so I need pictures to remember things. Also, I wanted to do something for the greater good. I'm sure there are other English speakers out there, struggling with me to learn this language.
AND HOW WILL IT WORK? I will label random things with sticky notes and take a photo with my phone. Then I will post the photo to Instagram, Twitter and my Tumblr feed using this formula in the caption:
TheGermanWord (e.g. #derspiegel) +  "German+EnglishWord" (#germanmirror) + Project Name (#joellelabelsberlin).
As I build up this photographic dictionary, anyone can find these words through searching for hashtags.
THIS SOUNDS GREAT JOELLE, HOW CAN I FOLLOW YOUR LEARNING EXPERIENCE?
Great question! You can follow me on Instagram @joellegebhardt, Twitter @joellegebhardt or my Tumblr feed (the link is on my website). The Tumblr feed will be exclusively for this project, but I will still be posting other things on Instagram and Twitter.
I THINK THIS IS A RIDICULOUS IDEA, YOU ARE CRAZY.
Thanks! It might be a stupid idea, but I've gotta learn German somehow!