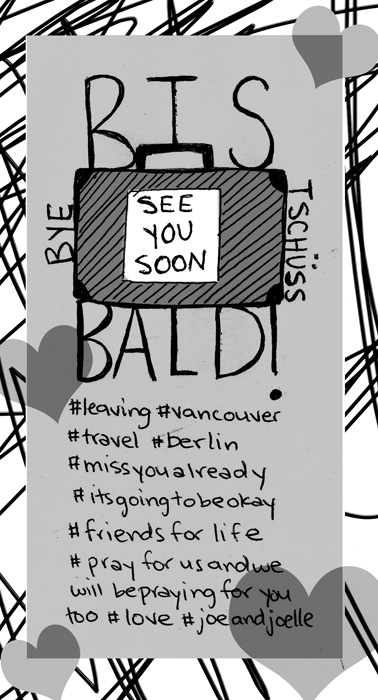 I wanted to make something "creative" this afternoon, but I couldn't stop thinking about leaving Vancouver in a few weeks. I made this #hashtag card above to filter my emotions. Good ol' hashtags! I've been learning some German with this free app called Duolingo, and incorporated some of my new vocabulary into it too.
It's becoming more and more real that we are relocating to Berlin. Almost every day I am asked, "So, are you getting excited?".  I'm never certain how to answer this question because, to be honest, I'm feeling mostly sad about it. It's hard to leave behind all your loved ones to travel to an unknown place for an unknown amount of time. I know, it's Europe, and everyone wants to go to Europe because it's cool. But, the coolness factor is not helping with that ache in my heart when I think of all the people I'm leaving behind.
I have unintentionally put some roots down in this city, even with it's transient nature. It is home now. And there are days when the idea of leaving is more than I can handle, so I have to pretend that it's not happening. This is a horrible strategy for packing! Do not ask me for advice when it comes to moving.
If you've ever had to move to another city, I'm sure you can relate to these feelings. It's something we are all faced with at some point. And I always think that it will be easier the next time, but good-byes always seem to suck.
On the flip side, I know that Berlin is going to be amazing and I am excited to go. I have my appointment with the German Consulate tomorrow to apply for my work visa, and plan on making lots of art while I'm there. And as an artist, this is an ideal place to be going.
Everything is going to be ok. (I actually hate it when people say this, however, in this particular case, it's true). Everything will be ok. The ocean isn't THAT big, right? There are planes and boats and skype and letters. Wonderful inventions that make the distance smaller between me and you.
And on that note, I'm going to go organize my closet now. Thanks for listening 🙂
-Joelle