This past weekend was the Eastside Culture Crawl in Vancouver. For those of you who don't know: this is an annual event where over 400 East Vancouver artists invite you to come look at their studios and artwork. There is a lot to see and buy, if you are looking for some local art. To be honest, this was the first year I participated in the Crawl, even though I've lived in Vancouver for almost 5 years.
This same weekend, I was participating in The Postcard Show: Volume 3 and the Annual Artist Showcase at China Cloud Gallery, which was open for the Crawl (photos of this below). Not having my studio open, allowed me to go out and visit other artists, which I really enjoyed. While I was walking from studio to studio, it hit me that half of the artists from the Open Book Art Collective were in the Crawl this past week! This is the art collective/book club I've been a part of and we just had our first show a few months ago. I took it upon myself to take some photos, since these ladies are doing amazing work and deserve some attention 🙂 I wasn't able to get to all four of their studios (sorry Andrea Armstrong), but here are some photos from the ones I did see.
First up is: Jenny Hawkinson ( http://www.jennyhawkinson.com/). Jenny works with a variety of mediums such as acrylic painting, drawing, embroidery and textiles and installation. I really appreciate her consideration of display and installation which is something that many artists working in 2D often don't consider. We are so quick to put something in a frame, but her drawings are hung from the ceiling or mounted out from the wall. Check out her website site to see more of her work!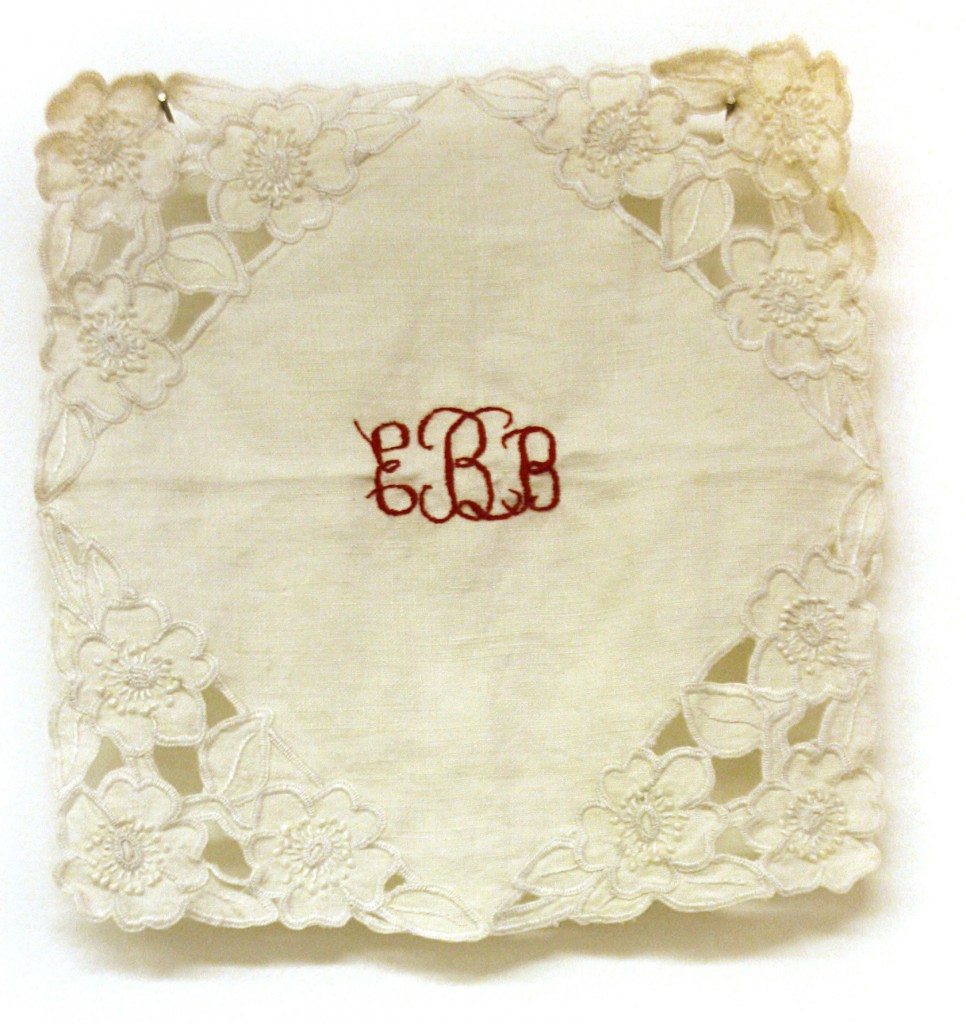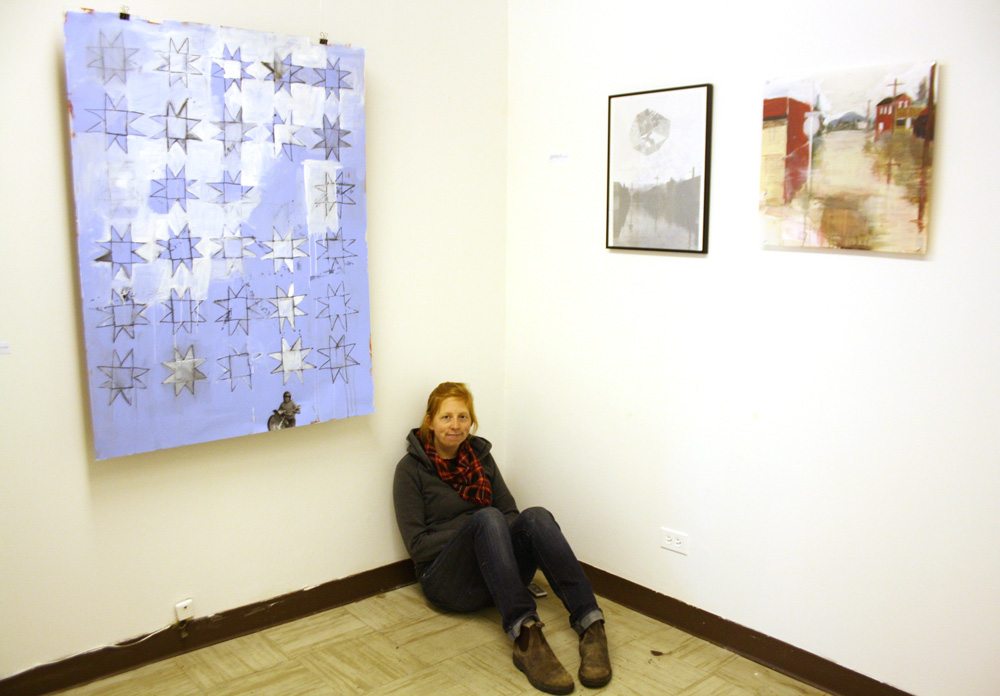 Next is: Cara Bain (http://carabain.ca/) Cara is a designer as well as an artist. She paints amazing portraits that are expressive and capture the character of the subject. I personally find portraits difficult and tedious, so I admire Cara's ability to do this. She recently made a series on wood panels for the Death of a Beekeeper exhibit. I enjoy that she allowed some of the natural wood surface to show through the painting.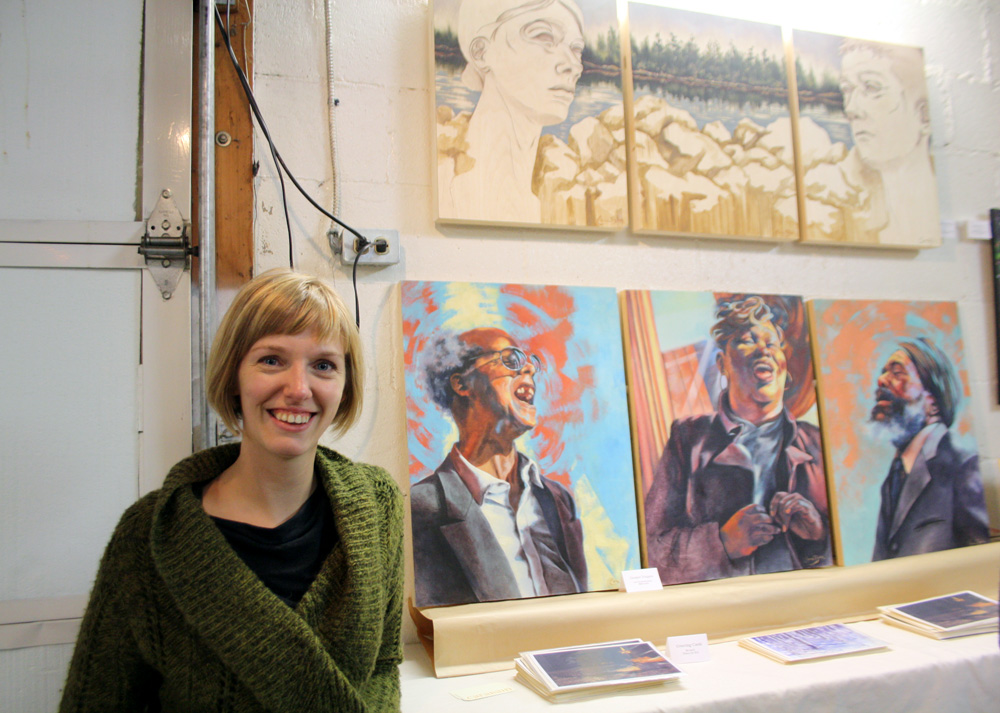 Lastly, but not leastly (I know that's not a word) is: Erica Wilk (http://www.ericawilk.com/). Erica put a lot of work into preparing for the Crawl this year and pumped out a whole series of new works. I'm really excited about the direction she is taking with her work, I've not seen anything like it. Check out her website above to see what I mean. Erica also makes jewellery from bits and pieces of vintage jewellery. She was kind enough to let me sell some of my postcard books and zines at her table in the China Cloud gallery. If you are looking for some one-of-a-kind Christmas gifts, she sells her jewellery online and does custom orders too!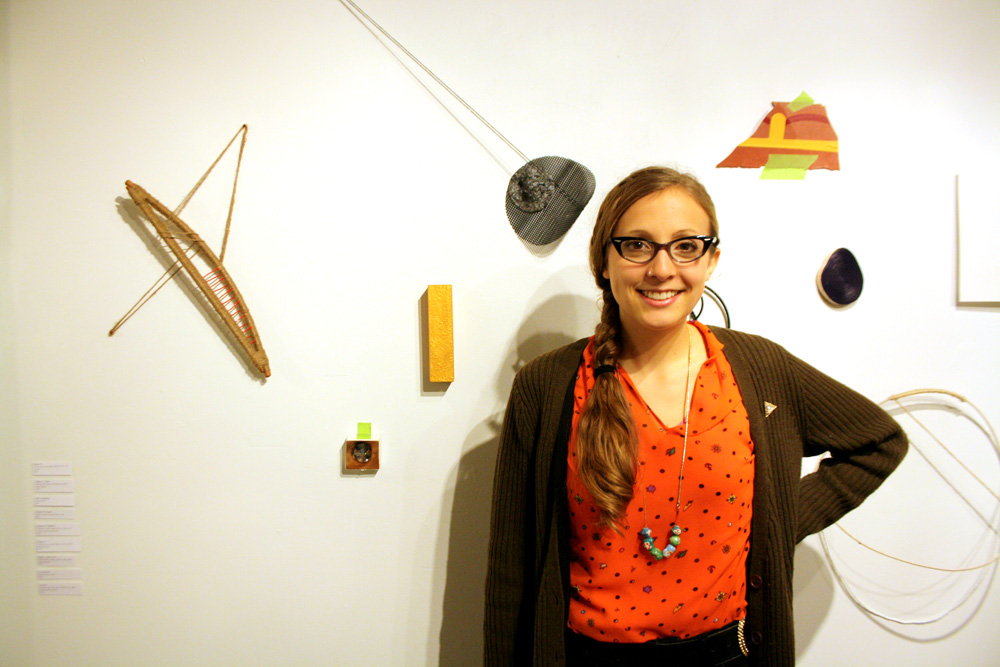 The picture below shows some of work I was selling next to Erica's at China Cloud during the Crawl.